It doesn't matter where you come from. What matters is where you are going!
KOMFORT CAMPING PARK BURGSTALLER
Nestled in the magnificent mountain panorama around Lake Millstätter See lies the comfort camping park Burgstaller, one of the most awarded campsites in Europe. The leisure facilities are correspondingly diverse, from the park's own lido to playgrounds and sports fields to a show stage, from two restaurants to the Almstub'n music pub.
Europe's most incredible sanitary facilities and the pitches with all direct connections fulfill every wish. The top animation program from Easter to the apple festival in autumn with children's program, Indian forest, family hikes to our own alpine pasture, moor snorkeling, looking for garnet gemstones, stage shows, bingo and much more guarantees a varied vacation.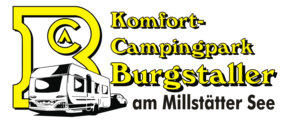 TOP Facts
ADAC Super place 2023
ANWB TOP 2023
Camping Info Award 2023
DCC European Award in Platinum
Quality Seal of the Province of Carinthia
ECC top site award
Europe's most incredible sanitary facilities
"A place in the sun": world's 1st pitch that rotates with the sun.
TOP Weeks
22.03.2024 - 01.07.2024
01.09.2024 - 01.11.2024